Tharpe Secures Second Straight Mickey Thompson Tires Top Fuel Harley Title
Ten-race series again thrills fans with a final-event showdown.
09/18/2019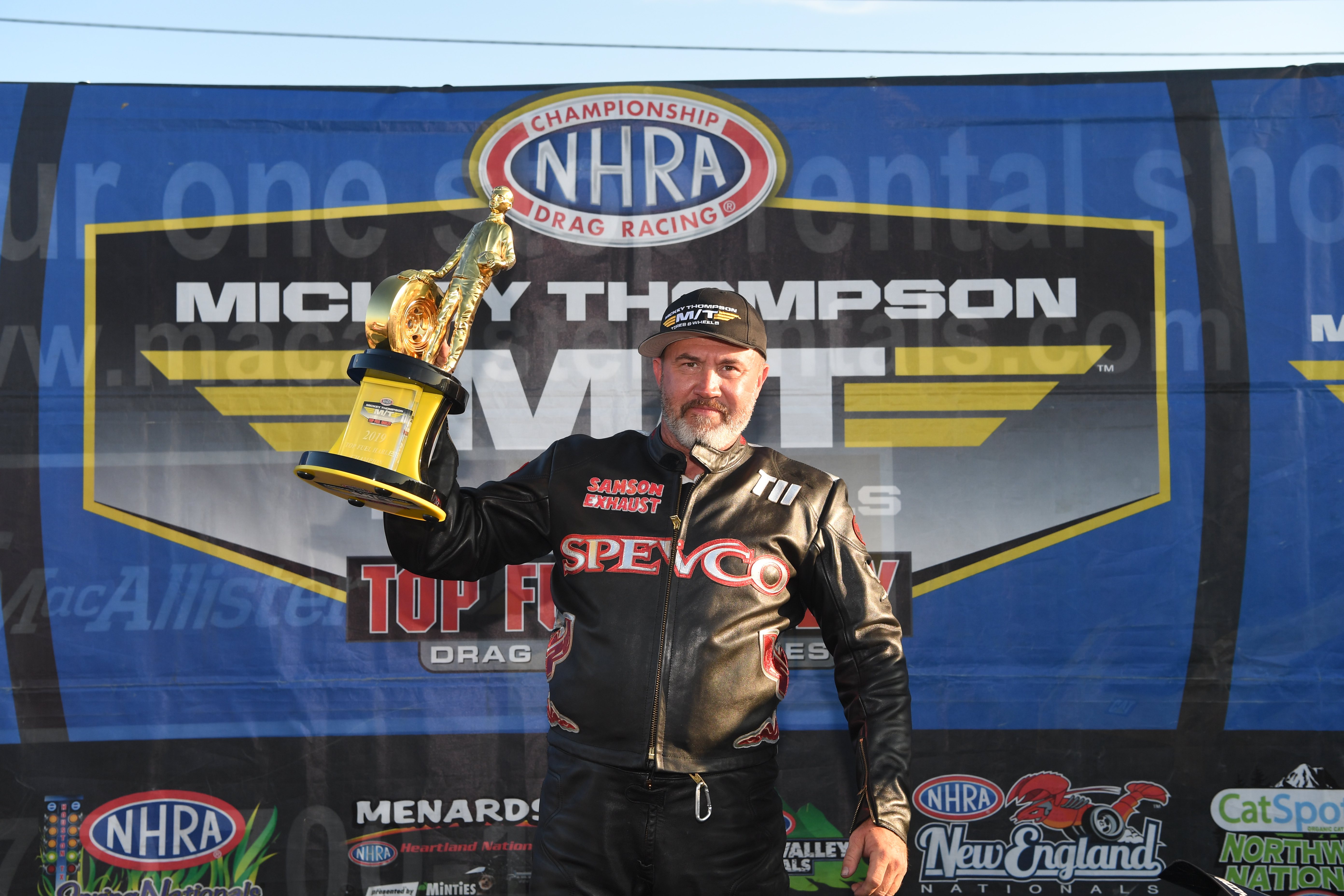 For the second straight year, the championship of the Mickey Thompson Tires NHRA Top Fuel Harley Series came down to the last day of the season, and, for the second time, Tii Tharpe edged Doug Vancil for the championship.
Both riders won their first-round races at the Chevrolet Performance U.S. Nationals in Indianapolis—the last event in the 10-race series—with Tharpe dispatching Kevin Boyer and Vancil winning on a 6.34 to 6.33 holeshot count against Mike Scott.
With a two-round points lead, Tharpe just needed to beat Rickey House in the semifinals to lock up the title regardless of what Vancil did behind him. House left on Tharpe, but the power of the Spevco/Jay Turner Racing Harley powered Tharpe past House before the finish line, 6.39 to 6.49, to lock up consecutive titles.
Vancil lost behind him, falling to low qualifier Randal Andras, making Tharpe's win a moot point and the championship a walk-off success. Andras would go on to win the event.
"I think this championship was harder," Tharpe told NHRA.com. "After I won it last year, people told me I'd have a bullseye on me, and they were right. There's a whole other part of the mental game that comes with that. The first one was pretty special and hard to top, but this one is sweet, too."
The 10-race 2019 Mickey Thompson Tires NHRA Top Fuel Harley Drag Racing Series featured NHRA's only nitromethane-powered two-wheeled bikes at some of the fastest racing facilities in the country. The bikes are capable of exceeding 220 mph with each pass, and races are regularly decided by just thousandths of a second.
"We want to congratulate Tii Tharpe and all the riders in the 2019 Mickey Thompson Tires NHRA Top Fuel Harley Drag Racing Series for a fantastic season," said Ken Warner, Vice President of Marketing for Mickey Thompson Tires & Wheels. "Every year the competition gets tougher, and every year the riders put on an even better show for the fans. We're thrilled to sponsor this action-packed series, and to show the quality and performance of Mickey Thompson tires on the track."