Mickey Thompson is Ready to Rock
Company sponsors all three regional NRRA series.
03/25/2022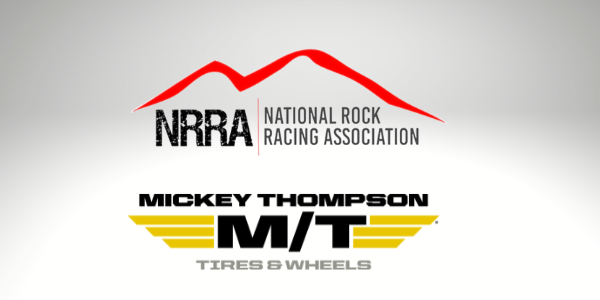 Mickey Thompson Tires & Wheels is ready to rock with the National Rock Racing Association (NRRA).
As a sponsor of the NRRA and its three regional series, the wheel and tire brand is showing its support for organized off-road competitions.
"Sanctioned off-road racing is back and bigger than ever, and we'll be in the heart of the action," said Jason Moulton, Sr. Motorsports Manager, Mickey Thompson Tires & Wheels. "As an official 2022 NRRA Marketing Partner, we'll be supporting some of the best off-road drivers in the business."
The NRRA hosts exciting off-road racing events, with classes including the Bouncer & UTV Cup Series, RCV Axle UTV Bounty Series, and RC Cup racing. Regional contests are broken up into Northern, Southern and Central series.
The sticky compound in Mickey Thompson's Baja Pro XS tires make them a popular choice for NRRA racers. The unique compound provides superior grip so off-road racers can compete with confidence. Innovative Pro-Tech Construction™ and Dual Decoupling Grooves™ allow for flexibility on irregular surfaces, while Tread Biter™ cleats add traction.
See Mickey Thompson's line of extreme off-road tires put to the test at upcoming NRRA events including:
CENTRAL SERIES
July 13-17 – MidAmerica Outdoors, Jay, Oklahoma
Sept. 23-24 – Rush Springs Ranch, Pineville, Missouri
SOUTHERN SERIES
April 8-9 – Hot Springs Off-Road Park, Hot Springs, Arkansas
Aug. 5-6 – Hawk Pride Mountain Offroad, Tuscumbia, Alabama
Oct. 7-8 – Bikini Bottoms OffRoad Park, Dyersburg, Tennessee
NORTHERN SERIES
March 25-26 – Wildcat Offroad Park, Bernstadt, Kentucky
Aug. 26-27 – Hollerwood Park, Stanton, Kentucky
The NRRA Finals for all three series are set for Oct. 27-31 at MidAmerica Outdoors in Jay, Oklahoma. For more information visit nationalrockracing.com.
For more information about Mickey Thompson Tires & Wheels, visit mickeythompsontires.com.