Mickey Thompson Pro Bike Battle Won by Matt Smith
Three-time world champion claims second title in three years.
09/16/2020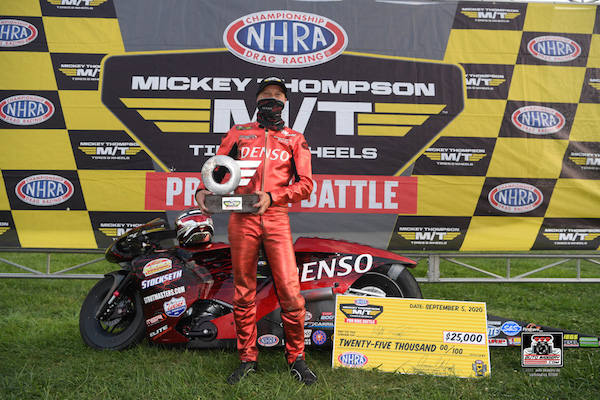 Winning the Mickey Thompson Pro Bike Battle is becoming a habit for Matt Smith, as the three-time NHRA Pro Stock Motorcycle world champion claimed his second event title in three years during Labor Day weekend.
In the final held on Saturday, Sept. 5, Smith rode his DENSO-sponsored EBR motorcycle to a win over teammate Scotty Pollacheck to earn $25,000 at the DENSO Spark Plus NHRA U.S. Nationals at Lucas Oil Raceway at Indianapolis. Smith also won the Mickey Thompson Pro Bike Battle in 2018, when the event was held in Sonoma, California.
"Congratulations to this year's champion Matt Smith and all the competitors in the Mickey Thompson Pro Bike Battle," said Ken Warner, Vice President of Marketing, Mickey Thompson Tires & Wheels. "We're thrilled to sponsor such an exciting event that showcases the skill and courage of these amazing riders."
The final round included plenty of drama. First, Pollacheck red-lighted by a thousandth of a second, handing the win to his teammate. Smith then raced down the track, only to have his rear wheel lock up at the finish line.
Trailing a huge plume of tire smoke, he managed to get the bike stopped safely before collecting the special Pro Bike Battle trophy from Mickey Thompson.
"I'm not sure exactly what went wrong, but somehow we got the win," Smith was quoted after the race. "Thank you, Mickey Thompson, for putting this race on and thank you to DENSO and Mark Stockseth and everyone who helps me. This race is a big deal for us (Pro Stock Motorcycle racers) and it means a lot."
The Mickey Thompson Pro Bike Battle is a special invitational event that is open only to the top eight Pro Stock Motorcycle riders based on the previous year's qualifying results. Last year's event was won by rider Andrew Hines.
For more information about Mickey Thompson's race tires, visit www.mickeythompsontires.com.