Mickey Thompson Tires Unleash the Power of Dodge Challenger SRT Demon 170
Mickey Thompson ET Street R and ET Street Front tires featured on Dodge brand's final "Last Call" vehicle
03/20/2023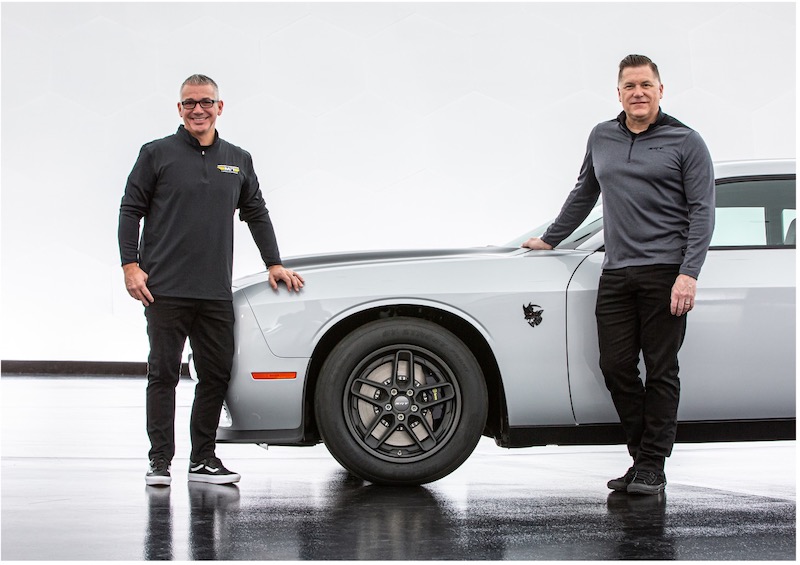 Mickey Thompson Tires played a key role from the ground up in the record-breaking performance of the new 2023 Dodge Challenger SRT Demon 170, revealed this evening by the Dodge brand in Las Vegas. Before undertaking the project, Mickey Thompson worked closely with Dodge engineers in developing a tire that could unleash record-setting power for the world's quickest 0-60 production car.
"Nobody puts power to the ground like Mickey, and nobody creates power like Dodge," said Dominick Montouri, President of Mickey Thompson. "Dodge values record-breaking performance as much as we do, and they truly broke every barrier with this vehicle."
A relationship born at the dragstrip, the two companies began development of a modified version on Mickey Thompson's popular ET Street R P315/50R17 months prior to the Challenger SRT Demon 170 project kickoff.
Mickey Thompson's ET Street tires turn the Dodge Challenger SRT Demon 170's 945 ft.lbs of torque into traction. Achieving 0-60 in 1.66 seconds, the 1025-horsepower Demon 170 completes a quarter mile in a record breaking 8.91 seconds at the track. The rear tire features a modified version of the popular Mickey Thomson ET Street R P315/50R17. The additional tread grooves improve on-street performance, allowing the Demon 170 to switch from the strip to the street without the need for tire modifications.
"60-foot times in the mid-120's in a production car doesn't happen without a balanced and optimized suspension," said Tim Kuniskis, Dodge brand CEO, Stellantis. "The Mickey ET Street R's hook so hard it allowed us to get much more aggressive with our suspension and trans-brake tuning."
Mickey Thompson also developed an ET Street Front 245/55R18 to create a staggered fitment designed to transfer power to the rear tires; allowing for reduced weight, lower rolling resistance and improved dynamic and handling balance to put the Challenger SRT Demon 170's power to the ground when it creates more than 2G's of force at launch. These tires were designed specifically for the Challenger SRT Demon 170. The ET Street Front 245/55R18 and the modified version of the ET Street R P315/50R17 are not currently available for purchase.
To learn more about Mickey Thompson Tires & Wheels, visit mickeythompsontires.com.
To learn more about the Dodge brand, visit DodgeGarage.com.