Statement From Mickey Thompson Tires & Wheels
Regarding Mickey Thompson Deegan 38 Light Truck Tires
12/22/2022

We are aware of concerns in China on the manufacturing quality of certain tires bearing the "Mickey Thompson" brand. We do not have any concerns in countries outside of China.
Based on our preliminary investigation of the concerns in China, these tires were not made by Mickey Thompson Tires & Wheels in any of our facilities nor were they sold by Mickey Thompson Tires & Wheels or any of our authorized distributors in China.
We are taking this matter seriously, and we are working with the appropriate government authorities to address these concerns. Mickey Thompson has a long proud history of market-leading performance tires, including manufacturing all Mickey Thompson light truck tires in North American facilities. Our tires are the result of many years of design innovation, advanced compounds, and build-and-validated quality that our consumers around the world trust.
While our investigation is ongoing, we ask that you take note of the following:

As a premium and professional off-road tire brand in the U.S. and China, Mickey Thompson is favored by off-road enthusiasts. Mickey Thompson Tires & Wheels does not have a factory in China, nor has it ever authorized any factories in China to produce any Mickey Thompson brand light truck tires, including Deegan 38 light truck tires.

The company that produced the tires in China produced them with "Made in USA" on the label and sidewall. In response to customers and consumers inquiring about the authenticity and quality of the products produced in China, the Chinese company further claimed that Mickey Thompson authorized them to make local production of Mickey Thompson tires due to the impact by Covid and the relationship between US and China. This absolutely not true.

Every Mickey Thompson tire must have an imported 3C certification, and Mickey Thompson US-made light truck tires have DOT codes starting with 1UP (UP) or 1UT (UT).

Mickey Thompson Tires & Wheels ceased manufacturing Deegan branded tires in 2021. Therefore, any such tire with a date stamp of 2022 is not manufactured by Mickey Thompson.

Here are some typical examples of the difference between Chinese-made and US-made tires, to make it easier for our loyal consumers to identify: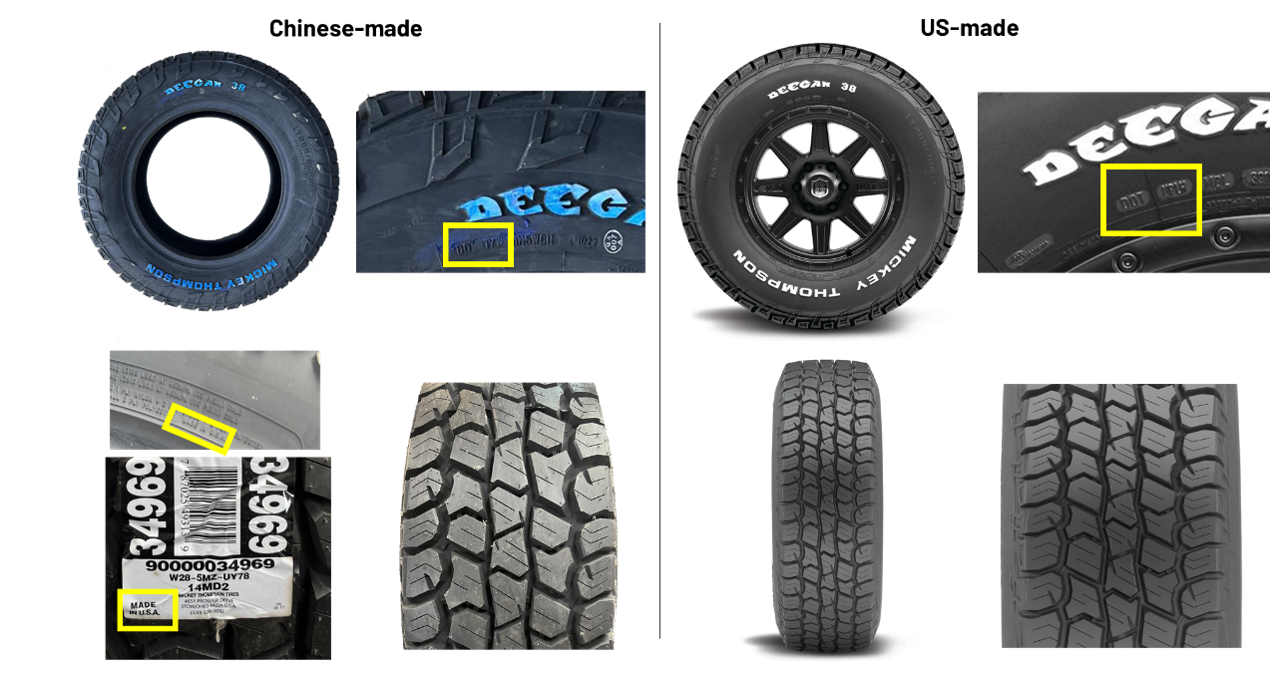 We understand consumers want to buy tires they trust, and we recognize and thank you for raising your concerns. We appreciate our consumers' high level of trust and recognition for Mickey Thompson brand and products.
The only official website of Mickey Thompson is: https://www.mickeythompsontires.com/.
Before you purchase our products, we encourage you to compare the relevant information such as patterns and sizes on the official website for verification.
If you have further inquiries, please contact us via email at customerservice@mickeythompsontires.com.
*Mickey Thompson Tires & Wheels is a trade name of Max-Trac Tire Company