Mickey Thompson Expands Presence at King of the Hammers for 17th Annual Event
02/01/2023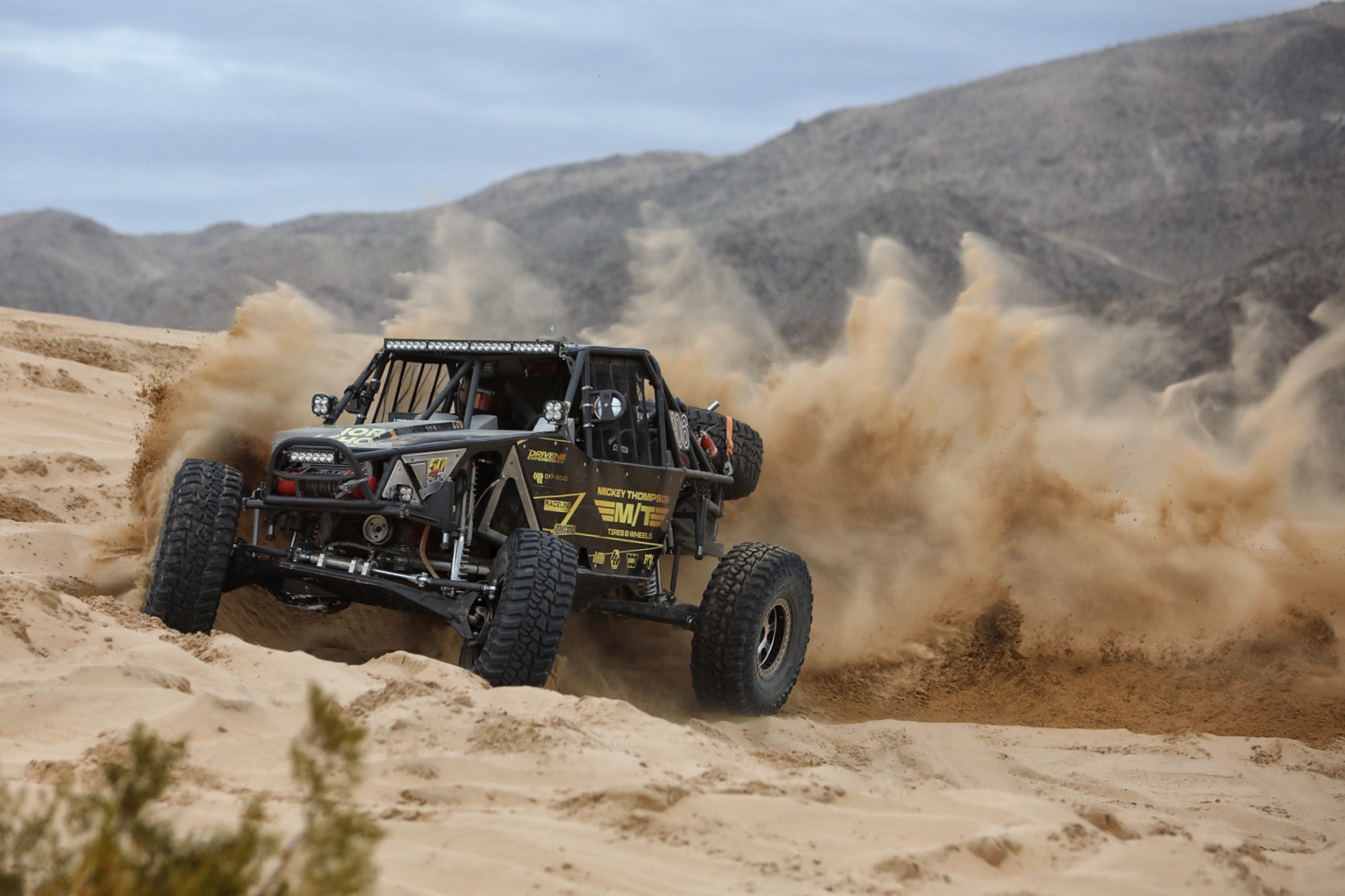 Mickey Thompson Tires & Wheels (M/T) is proud to announce an expanded presence at the 17th annual King of the Hammers (KOH) taking place Feb 2-11 in Johnson Valley, Calif. After years of dedicated product development efforts, the company will be showcasing its latest off-road technology on more than 20 racecars across four classes through a new Ultra4 sponsorship program and will have various technical departments on-hand working closely with the selected teams to continue its high-paced development efforts.
Mickey Thompson has worked with multiple teams over the past several years to continue refining the Baja Boss program and develop technologies for future products. In 2022, Mickey Thompson partnered directly with 10 teams to gather feedback and develop technology being showcased in its Baja Boss tire lines at this year's King of the Hammers.
"For '23, we're excited to see team M/T expand across the various classes and we will have product management, engineering, technical support, motorsports and marketing staff on-hand to work with the racers to continue our innovation efforts," said Ben Anderson, Senior Product Manager of Light Truck for Mickey Thompson Tires & Wheels. "There is no other event like Hammers, it marries aspects of high-speed and extreme endurance desert racing with the highly technical conditions of rock racing to produce one of the most grueling forms of racing in the world. The data gathered at this event is invaluable in developing our light truck technologies."
Drivers in the 4400 class will use Baja Boss X, a competition version of Mickey Thompson's popular Baja Boss tire with a race compound for off-road use only. Other drivers will compete with Baja Boss M/T, and both tires feature extra-large, four-pitch Sidebiters® for unparalleled off-road traction. The Powerply™ XD provides better puncture resistance, quicker steering response and greater stability.
"Past KOH development programs have proven our Baja Boss tires perform at the level racers have come to expect from Mickey Thompson," said Jason Moulton, Motorsports Director of Mickey Thompson Tires & Wheels. "For 2023 we are excited to introduce a sponsorship program which includes an incentive-based contingency program that is active for KOH and the entire 2023 Ultra4 racing season."
Mickey Thompson Sponsored Drivers at King of the Hammers:
Class 4400
Cody Hardesty
Tad Dowker
Andrew McLaughlin
Justin Cowart
Kevin Porterfield
Bryan Mcvay
Jordan Pellegrino
Brent Moffet
Jarad Palant
Class 4800
Dusty Sexton
Kevin Jones
Collin Morlock/Brian Trempe
Jeremy Jones
Shaun Rajski
Madie Moon
Class 4500
Troy Digby
Nestor Comancho
Jesse Oliver
Peter Doolan
Class 4600
Kendall Glines
Albert Contreas
Justin Cowart
To learn more about the Baja Boss X or Mickey Thompson's complete line of truck tires, visit www.mickeythompsontires.com.