A New American Mud-Terrain Legend
Mickey Thompson introduces the Baja Legend MTZ.
04/04/2022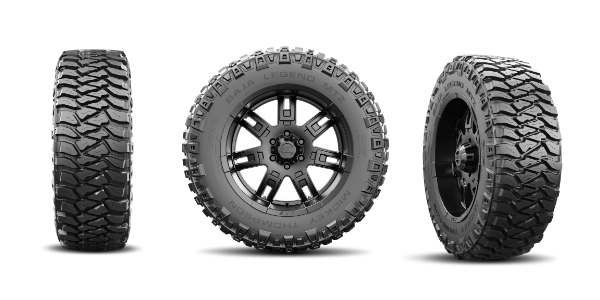 Representing decades of racing heritage, Mickey Thompson Tires & Wheels has enhanced its undisputed premium mud-terrain tire. The Baja Legend MTZ delivers legendary Mickey Thompson styling with optimized tread design and geometry to conquer terrain both on-and-off road.
"This authentic mud-terrain tire is built for enthusiasts who demand legendary off-road traction with a premium on-road experience," said Heather Tausch, director of product management, Mickey Thompson Tires & Wheels.
Living up to its Legendary status, the new line features
Variable-length and depth Sidebiters® for a bold look, off-road traction and protection.
PowerPly 3-Ply sidewall construction for puncture resistance, quick reaction to steering inputs and stability.
Silica-reinforced T-4 tread compound for lasting tread life, cut and chip resistance, wet handling and braking performance.
The Baja Legend MTZ will initially be offered in 35 sizes—and nearly half will be available with optional raised white sidewall lettering.
For more information about the new Baja Legend MTZ and all of Mickey Thompson's off-road tires, visit www.mickeythompsontires.com.