Mickey Thompson and Warner Bros. Pictures Bring the First Enthusiast-Inspired Batmobile to SEMA (Space #84180)
11/01/2022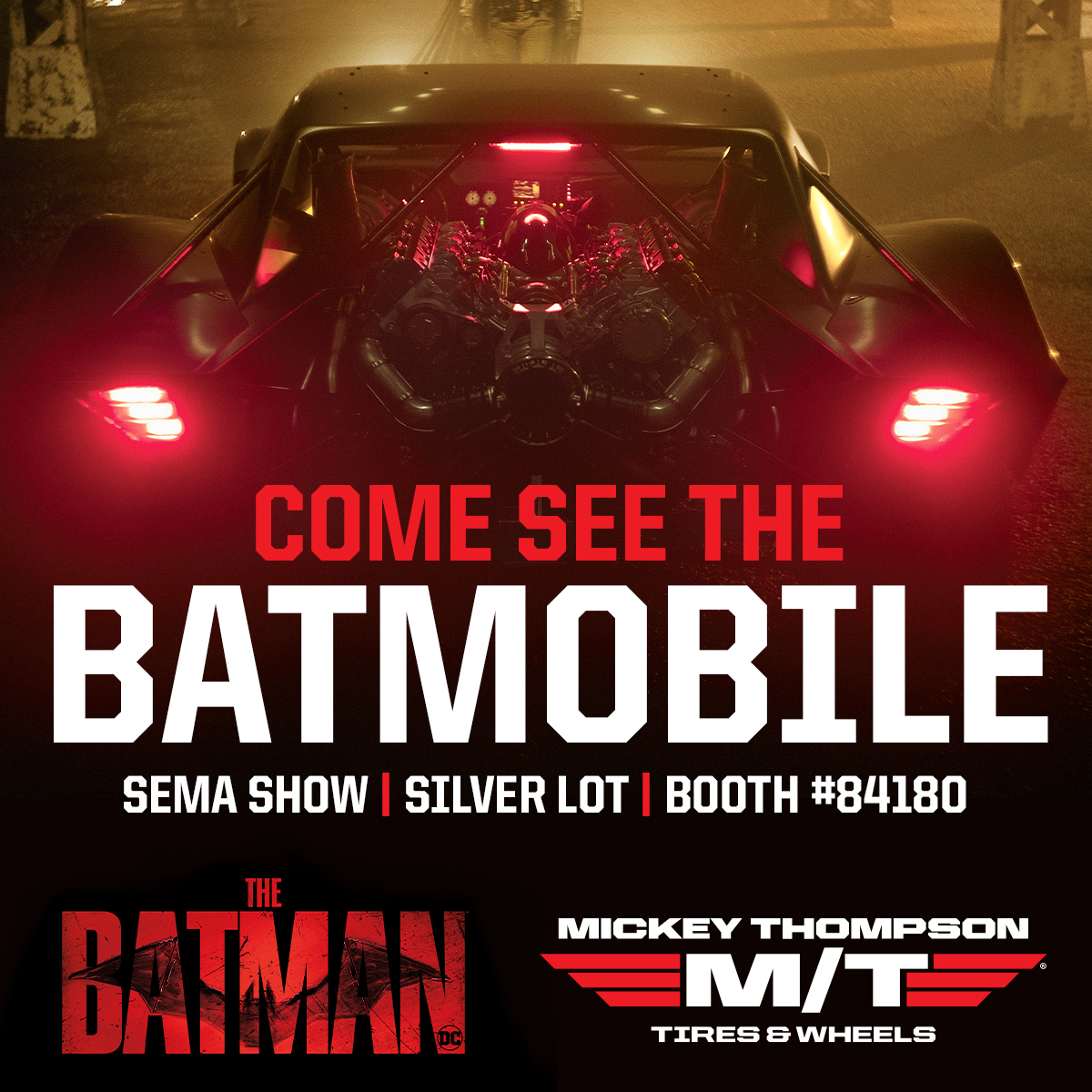 Mickey Thompson Tires & Wheels, in collaboration with Warner Bros. Pictures, will showcase the Batmobile from this year's blockbuster "The Batman" at the SEMA Show in Las Vegas. Featuring a set of Mickey Thompson Sportsman S/R tires used during production, the latest Batmobile will be on display at the Mickey Thompson trailer, located at the SEMA Show Silver Lot, space #84180, November, 1-4, 2022.
A custom, function-first hotrod, the Batmobile showcases Mickey Thompson tires, known for bold sizes and the level of performance typically required for extreme enthusiast builds.
"It's clear that the producers of 'The Batman' intended to depict Bruce Wayne as highly knowledgeable, building with aftermarket parts," said Dominick Montouri, President of Mickey Thompson Tires & Wheels. "This new Batmobile is a true project build and perfectly captures the essence of our industry. We're thrilled for the opportunity to give Mickey Thompson and Batman fans alike a chance to see this incredible vehicle firsthand at the SEMA Show."
"We wanted to represent Bruce Wayne as a gear head," said James Chinlund, Production Designer for "The Batman." "He has an intimate relationship with every detail of the Batmobile, built it from the ground up with his own hands. Every component on the car was designed or selected with the mission in mind. Mickey Thompson tires come from a tradition of scratch-built cars; built for speed and power, innovating and experimenting to squeeze every bit of performance out of the vehicle they can. It was the natural fit for the Batmobile."
"The Batman," 2022, from Warner Bros. Pictures, can now be streamed on HBO MAX.
For more information on Mickey Thompson Tires & Wheels, visit mickeythompsontires.com.