Mickey Thompson is Proud to Support the Fifth Annual Great American $20,000 Bracket Race
05/20/2022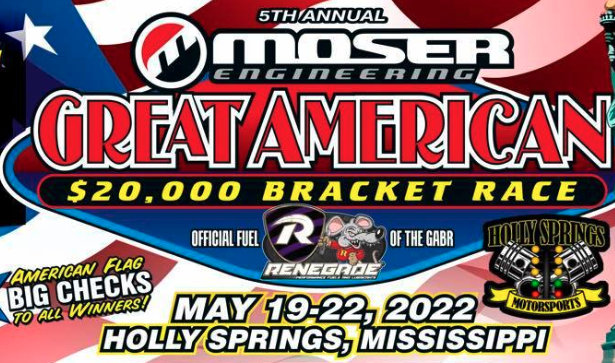 Bracket racers are heading to Mississippi this weekend for a big-money challenge, with support from Mickey Thompson Tires & Wheels.
"Sponsoring the fifth annual Moser Engineering Great American 20K Bracket Race (GABR) and Scoggin Dickey Parts Center (SDPC) Raceshop Dream Team Challenge allows race enthusiasts and brand aficionados to showcase the quality and versatility of the Mickey Thompson ET Drag Racing tire line," said Jason Moulton, Sr. Motorsports Manager of Mickey Thompson Tires & Wheels.
"Our ET Drag products are designed for bracket racing, delivering improved traction and performance for automatic transmission setups," Moulton added.
Mickey Thompson's ET Drag Racing tires set the standard for straight-line competition, allowing drivers to "stand on the gas." The record-setting tire lineup includes bias ply, radial and street-strip models, plus front tires, tubes, and junior and motorcycle applications.
Additionally, Mickey Thompson's new ET Pro Bracket Radial is ideal for automatic transmission racecars. Low rolling resistance makes the tire quicker and faster than bias ply counterparts.
This year's GABR returns this weekend to Holly Springs Motorsports in Holly Springs, Mississippi. Impressive payouts in multiple classes make it a can't-miss weekend for the region's talented bracket racers.
Mickey Thompson's support for run-what-you-brung bracket racing will then continue throughout the summer, as the company will also sponsor the Red, White and Blue 20Ks on June 25-27 at Holly Springs, and the Great American 100K from Sept. 8-11 at Capital City Motorsports Park in Alabama.
For more information about the Great American Bracket Race, visit greatamericanbracketraces.com. For more information about Mickey Thompson Tires & Wheels, visit mickeythompsontires.com