Mickey Thompson-Sponsored Racer Wins 2023 King of the Hammers 4WP Every Man Challenge on Baja Boss M/T Tires
02/14/2023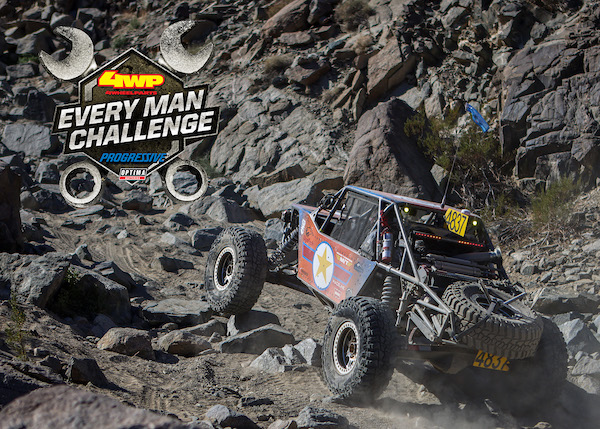 Jeremy Jones and co-driver Dan Young beat more than 150 racers to take first place in the 2023 King of the Hammers 4WP Every Man Challenge (EMC) Race in Johnson Valley, California.
The 4WP Every Man Challenge takes racers over 140 miles of desert and rugged terrain, testing both vehicle and driver. Jones also won his race in the 4800 class, rounding out an exceptional week. Sponsored by Mickey Thompson Tires & Wheels, Jones topped the EMC race podium and the 4800 class using Baja Boss M/T tires. Vehicles competing in EMC are required to have tires that are DOT approved, intended for highway use and available to the general public. These are the very same tires that are widely used both on and off-road.
A near flawless qualifying run put Jeremy in position to start raceday in sixth position. Jones left the line for the EMC at 8:01 a.m., and after 4 grueling hours and 42 minutes, he crossed the finish line with a comfortable lead. Taking the winner's podium, Jones became emotional as he thanked everyone who helped him win the day, including a special callout to Mickey Thompson.
"They're amazing. These tires — we didn't destroy one all day. We should have destroyed them all," he said, noting that he made it through the race without a single flat tire — an incredible feat after traversing 140 miles of rocks, sand and other obstacles.
"I thought it was incredibly fast, and there were some definite challenging spots," Jones said. "It was great."
Mickey Thompson-sponsored racers Troy Digby, finished second, and fellow rookie Peter Doolan won third. Digby also won the EMC 2023 KOH Rookie Class 2023 award with a $1,000 top prize.
Mickey Thompson announced an expanded presence at the 17th annual King of the Hammers event, which ended Feb. 11. The company showcased its latest off-road technology on more than 20 racecars across four classes through a new Ultra4 sponsorship program and has had various technical department team members on hand working closely with the selected teams.
Mickey Thompson Sponsored Every Man's Challenge Racers at King of the Hammers:
Class 4800
Dusty Sexton
Collin Morlock/Brian Trempe
Jeremy Jones
Shaun Rajski
Class 4500
Troy Digby (Rookie)
Nestor Comancho (Rookie)
Jesse Oliver
Peter Doolan (Rookie)
Class 4600
Kendall Glines
Albert Contreas
Justin Cowart/Roger King
For more information about the King of Hammers event, visit https://kingofthehammers.com/. To learn more about the Baja Boss M/T or Mickey Thompson's complete line of truck tires, visit www.mickeythompsontires.com.