Mickey Thompson Ready To Drag and Drive at Sick Week 2023
02/15/2023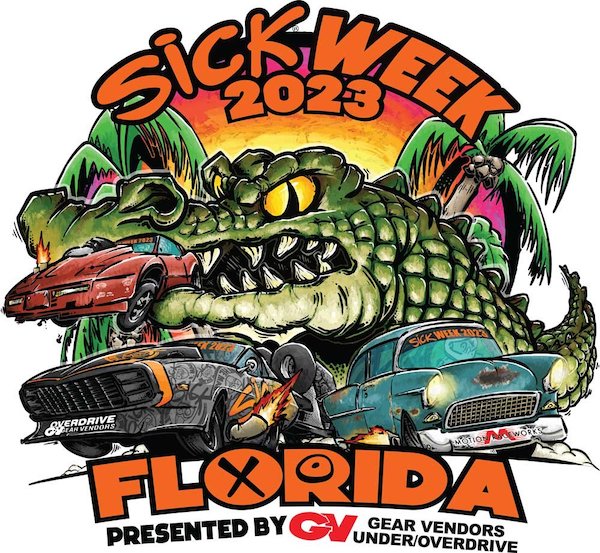 Mickey Thompson Tires & Wheels returns as the Official Tire Sponsor for Sick Week 2023 presented by Gear Vendors, an up-and-coming drag-and-drive event created by Tom Bailey and "Sick The Mag."
Set for Feb. 12-17, the five-day event will feature 350 of America's fastest street cars. Sick Week 2023 will make five stops at four tracks in Florida and Georgia:
Orlando Speed World (Feb. 12-13)
Bradenton Motorsports Park (Feb. 14)
South Georgia Motorsports Park (Feb. 15)
Gainesville Raceway (Feb. 16)
Orlando Speed World (Feb. 17)
"We are proud to return to Sick Week 2023 after a strong 2022 inaugural season," said Jason Moulton, Director of Motorsports, Mickey Thompson Tires & Wheels. "The events are a great combination of serious drag racing, fun and camaraderie at the checkpoints and spectacular scenic drives between locations. These events provide a chance to celebrate the best of what drag-and-drive has to offer and the perfect proving ground for our full lines of ET Drag and ET Street tires."
In the Sick Week format, racers set an average time at each drag strip throughout the week to determine their place and must drive their cars to and from each track along a predetermined route. Along the way, competitors socialize and cruise with hundreds of like-minded participants.
A livestream of the competition is expected to draw thousands of viewers, and the event will also be featured in a special edition of "Sick The Mag." Learn more at https://www.sickthemagazine.com/sick-week.
For more information about Mickey Thompson's complete lines of drag racing and performance tires, visit https://www.mickeythompsontires.com/.