Mickey Thompson Becomes Title Sponsor of Great American Crawl
Off-road adventure series open to 4x4 enthusiasts of all abilities.
02/03/2023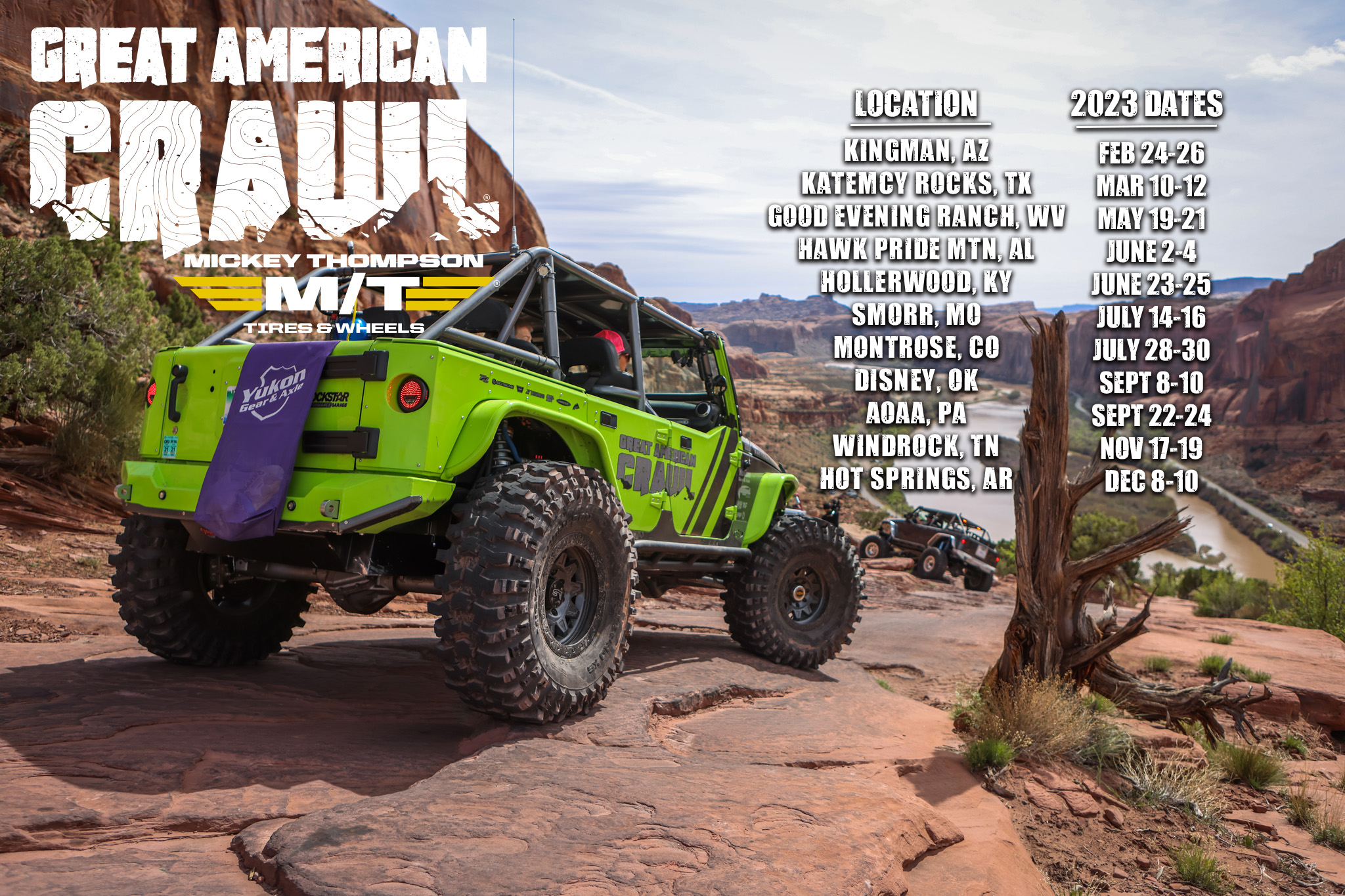 Mickey Thompson Tires & Wheels has strengthened its longstanding support of the off-road community by becoming the title sponsor of Mickey Thompson's Great American Crawl which brings 12 enthusiast events to highly popular trails and off-road vehicle parks across the nation. Mickey Thompson believes in offering products and support to off-roaders of all levels and abilities—a commitment shared by the organizers of the Great American Crawl (GAC).
Participating vehicles consist of everything from stock Jeeps, trucks and UTVs to fully-built-off-road rigs capable of climbing the rock ledges that adorn many of these parks' expert trails.
"Mickey Thompson listens to enthusiasts and engineers their products to provide them with the performance needed to off-road in these parks. As a driver or observer, you can tell when a vehicle is on Mickey's," said Nic Ashby of Rockstar Performance Garage, producers of Mickey Thompson's Great American Crawl. "We're going into our third year of the Great American Crawl, and we couldn't think of a better title sponsor than Mickey Thompson. They have been a part of GAC from the start, supporting our off-road community out on the rocks."
"We're excited to support the Great American Crawl in creating events that cultivate and strengthen relationships within the off-road community all over the country," said Heather Tausch, Senior Director, Marketing, Mickey Thompson Tires & Wheels. "The locations and production of these events give bucket-list level access to the best trails in the country for experienced enthusiasts and GAC trail leaders ensure even novice off-roaders can safely participate and grow their skills while forging relationships within the broader off-road community."
The 2023 GAC schedule includes:
• Feb. 24-26 – Kingman, AZ
• March 10-12 – Katemcy Rocks, TX
• May 19-21 – Good Evening Ranch, WV
• June 2-4 – Hawk Pride Mountain Offroad, AL
• June 23-25 – Hollerwood Park, KY
• July 14-16 – SMORR, MO
• July 28-30 – Montrose, CO
• Sept. 8-10 – Disney, OK
• Sept. 22-24 – AOAA, PA
• Nov. 17-19 – Windrock Park, TN
• Dec. 8-10 – Hot Springs, AR
The March 10-12 and Dec. 8-10 weekends will include Clash of the Club events produced by B & R Performance and sponsored by Mickey Thompson Tires & Wheels.
Costs to enter the parks and trails can vary, so participants are encouraged to join the GAC Facebook group for discounts from partner companies. Rockstar Performance Garage and its fleet of Ambassador Rigs will attend all the rides and capture photos and videos of each trip.
Registration is coming soon, and more information will be available at greatamericancrawl.com.
Mickey Thompson Tires & Wheels offers a complete line of performance, racing and off-road tires and wheels. For more information visit www.mickeythompsontires.com.